About Biswa Bangla, the exclusive collection of world-class products, handmade in Bengal
Biswa Bangla echoes the heartbeat of Bengal— its art, craft and culture. Our products are authentic, hand-crafted items that connect connoisseurs to the lives of Bengal's people and their myriad expressions.
When you shop with us, you do not only hold an authentic piece of Bengal in your hands but reach out to make the lives of our handloom weavers, craftswomen and traditional artisans a little better. This helps sustain the traditional art and crafts of the state by creating viable livelihood opportunities for their skilled, enterprising practitioners. We have left the drapes open so that you can gaze into the soul of our land and its people, and feel the love and hard work that has gone into making our handicrafts, our hand-woven fabric, our food, and our distinct identity.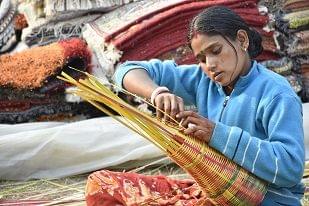 While our products retain the deep-rooted elements of the state's heritage, those are often strategically developed in contemporary design to suit the needs and preferences of today's customers. Quite a few handicrafts such as Masks and Dolls, and handloom products such as Jamdani and Muslin could be revived with Biswa Bangla's strategic efforts in product diversification, design development and quality management.
Biswa Bangla has also increased focus on marketing of handloom and handicraft products that have been conferred on Geographical Indication (GI), such as diversified products made with Madurkathhi from Medinipur, different size and design variants of Chhau masks from Purulia, Dokra handicrafts from Bikna and Dariyapur, wooden mask from Kushmandi etc., due to their unique quality, owing to their provenance.
Visit us to rekindle your imagination and stand out with pride!
---
About the Organisation
Department of Micro, Small and Medium Enterprises and Textiles, Government of West Bengal has promoted Biswa Bangla Marketing Corporation (BBMC) to support the livelihoods of handloom weavers, craftswomen and traditional artisans of the state through strategic marketing of handloom, handicraft and other heritage products of West Bengal. BBMC currently operates state-of-the-art Biswa Bangla showrooms in Kolkata, New Delhi, Darjeeling and Bagdogra Airport.
BBMC reaches out to thousands of craftswomen, handloom weavers and traditional artisans in the state to develop handicraft and handloom products that stand out in quality and uniqueness. Our 'social business' approach is creating entrepreneurs out of artists, and bringing back economic self-reliance to the bottom of the pyramid.
BBMC is constantly widening its outreach in different districts across the length and breadth of Bengal, ranging from the skilful craftspersons of Jangalmahal to the immensely creative as well as enterprising people in the hills of Darjeeling.
BBMC has worked with West Bengal Bhutia Development Board, West Bengal Khambu Rai Development Board, West Bengal Sherpa Cultural Board, West Bengal Mayel Lyang Lepcha Development Board, West Bengal Tamang Development and Cultural Board among other community development organisations in and around Darjeeling to facilitate market linkage for products, handmade or otherwise traditionally produced by the different indigenous communities.